"Comedy Goblins" is the 51st episode in the Skyrim for Pimps series and the 14th episode of Season 4. This episode is a part of a "very special kind of walkthrough" for the Dragonborn (DLC) Questline.
Fün kills the remaining Severins and returns to Raven Rock where she is led to Councilor Morvayn by Adril despite only being a few feet from him and Fün is awarded Severin manor.
Fün checks on Neloth's new servant. Neloth is mostly happy, but is disappointed with the quality of his servant's Anus Root tea. Fün accidentally reads another black book and is sucked into Library Land and she rides the Tit Flicker. Fün continues the search for the missing blacksmith from the Skaal village and encounters the comedy goblins, she also finds a treasure map! Fün travels around the island, fighting and by entertained by the comedy goblins.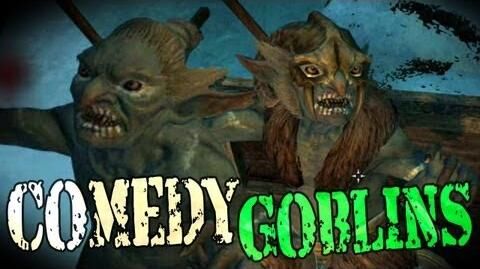 Ad blocker interference detected!
Wikia is a free-to-use site that makes money from advertising. We have a modified experience for viewers using ad blockers

Wikia is not accessible if you've made further modifications. Remove the custom ad blocker rule(s) and the page will load as expected.