Shadowmere
"The whole quest has been leading up to this. I got sidetracked by Astrid. Astrid's cool, I'm gonna lick her up, but this is why we set out to do this." - Fün Tits (Aaron Yonda)

Character Attributes

Role
Unknown
Faction
Unknown
Questlines
Unknown

Appearance Attributes

First Appearance
Behold...SHADOWMERE!
Latest Appearance
Unknown

Physical Attributes

Race
Demon Horse
Sex
Male
Current Status
Unknown



Shadowmere is a demon horse. It has been the goal of Fün's to obtain him since "Quest For The Demon Horse Shadowmere" , her first appearance, and the reason why she joined the Dark Brotherhood.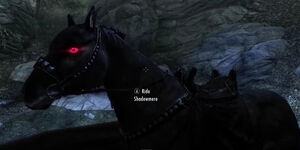 Fün
implanted a flux capacitor in to Shadowmere's ass. Therefore when she's hit with a 1.21 jigawatts spell, she is able to function as a time machine.
Ad blocker interference detected!
Wikia is a free-to-use site that makes money from advertising. We have a modified experience for viewers using ad blockers

Wikia is not accessible if you've made further modifications. Remove the custom ad blocker rule(s) and the page will load as expected.